How SaaS solutions helped bring an idea to life
03 Jan 2022

2 Minutes to read
How SaaS solutions helped bring an idea to life
Updated on 03 Jan 2022

2 Minutes to read
---
Share feedback
Thanks for sharing your feedback!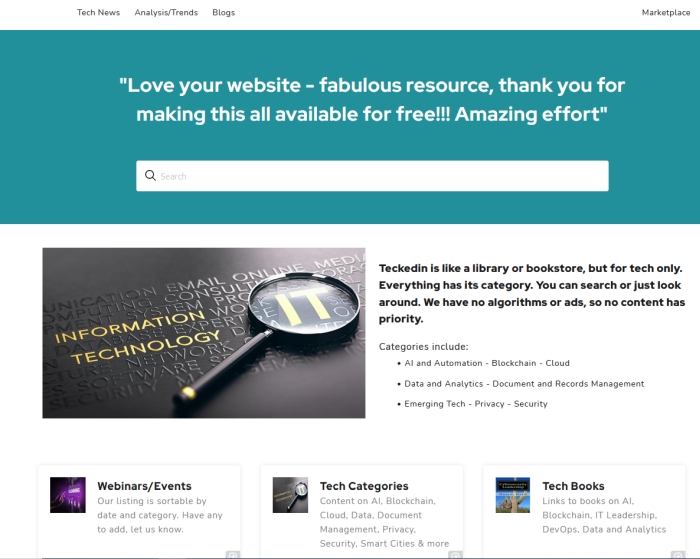 As 2021 comes to an end, I wanted to give a brief history of how one person can have a vision and create something from scratch because of technology.
I have been working in technology since the '80s. I did not attend college. My company, Records and Data Management, Inc. has been in business since 1993.
I created the idea of Teckedin.com in September of 2017. As a reseller/VAR of technology solutions and services and a technology user, I wanted to create a site to help both buyers and sellers.
For six months, I reached out to people for help developing it and coming up with a plan. It wasn't until I learned about Topcoder.com, a crowd-sourced development site, that my vision became a reality.
I used Topcoder for my website design and all backend development. It was a great experience, and very thankful to have a team to help. We went live in March 2018.
My vision of a site where sellers would sign up and post content and buyers/IT Users would sign up to access content and save to a personal vault sounded good, but in the end, it was flawed.
The influx of marketing tech deterred people from signing up on new sites and giving their personal information. On the seller side, most vendors only cared about was how many visitors you had. They weren't willing to try something new to increase visibility and sales because there were no metrics. And they also wanted personal information.
I was discouraged but I wasn't ready to throw in the towel after all of the time and investment spent.
---
In May 2020, I started looking at SaaS solutions, specifically knowledge base solutions. I tried two of them out. I chose Document 360 (Document360.com) and started building my knowledge base platform in September 2020.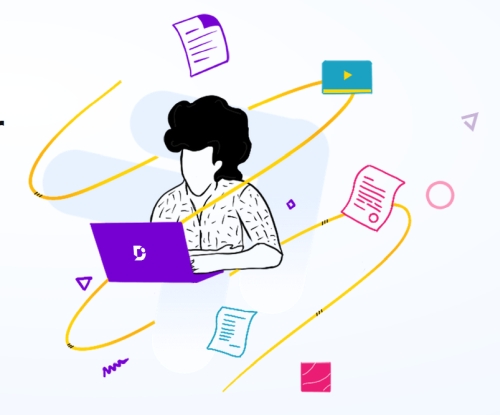 ---
My original site was taken down and deleted.
---
It was amazing how quickly I started creating my site. It was fantastic not to be restricted by a custom-developed site. When I began Teckedin in 2017, these applications weren't available.
Document 360's support is excellent, and they are constantly adding new features to their application. Technology tools like this are what enable small companies like mine to compete.
I could have chosen to make my site private, like a knowledge management site, but decided to make it public.
I have always stuck to my initial plan that my viewers would not become a marketing target on my platform.
We constantly add new sections and reach out to experts for their content and knowledge.
In July, I started looking for content curation applications. I signed up with UpContent (UpContent.com) and use their application for curating blogs and other content. We handpick every piece of content presented to us by UpContent. Technology is not perfect, and we don't want any content that is not business technology-related to sneak in because of search terms, etc.
How technology has changed since the '80s is astounding. It has allowed a one-person band like myself to create something from scratch.
So if you have an idea for the new year, don't get discouraged. Do the research, and I am sure you will find the tools and knowledge to get you started.
Debby Kruzic, Founder
Teckedin.com
---
Was this article helpful?
---