Sponsorship/Visibility Opportunities on Teckedin
22 Nov 2023

1 Minute to read
Sponsorship/Visibility Opportunities on Teckedin
Updated on 22 Nov 2023

1 Minute to read
---
Share feedback
Thanks for sharing your feedback!
Your company solution or service will be seen daily by those that stay current on business technology.
In addition to the pages you sponsor, you are welcome to share content in our knowledge base, giving you extra exposure.
We promote our sponsors on LinkedIn numerous times.
Our visitors and their engagement is increasing daily.
We are transparent with our analytics as you will see below.
How many views and visits does Teckedin get?
What do our Google Analytics look like?
These analytics are for one week.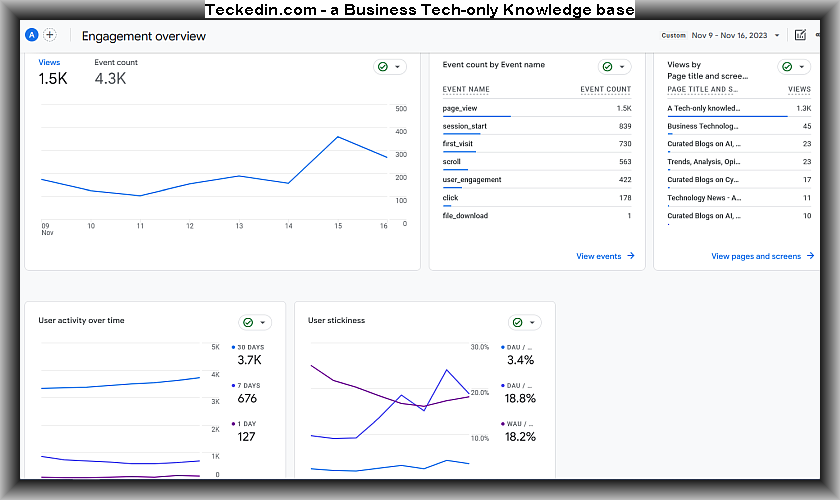 Teckedin is now doing banner ads. Here are the results from our latest banner ads on NY Times and Forbes.


What do we do differently and how can we help you increase visibility?

On the pages you sponsor, we have your logo and a link to your website (the link can include a code so you can track activity from our site). And we thank our sponsors numerous times a week on Linkedin. (Again, with links to your website)
We curate and aggregate tech content and share it on a daily basis
We give free publicity to many companies in our tech news, tech trends, podcasts, and tech website listings
We promote our site and content on Linkedin
We offer a privacy-driven and distraction-free platform where viewers can discover companies and solutions.

Content is categorized and tagged for search and findability

We have banner ads running in the New York Times and Forbes

We are glad to share good content to provide more value to our readers.

---
Here is our media kit. We can be reached at [email protected] or 505-250-0986, if you have any questions or want additional information. Thank you.
---


---


---
What's Next