We learned about Privacy Grader from an article in Datanami.com
SAN FRANCISCO, Dec. 17, 2020 — Ketch, a company making it easier for businesses to automate data regulation, is unveiling PrivacyGrader.com, a free privacy score that helps businesses measure compliance risk. Founded by technology veterans Tom Chavez and Vivek Vaidya, and created by legal privacy experts from Berkeley, PrivacyGrader.com scores how well the website is abiding by current data regulations.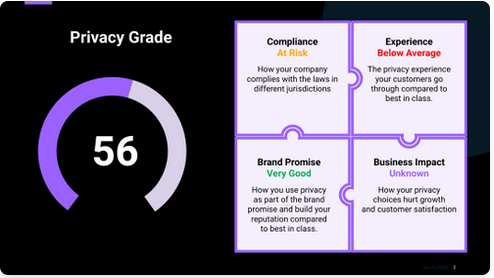 How PrivacyGrader Works
Every PrivacyGrade includes free, simple-to-implement instructions that enable you to improve your site's privacy performance and experience, while simultaneously reducing noncompliance risk. Your score is entirely confidential; it will not be used for any other purpose without your explicit permission.
---
Was this article helpful?
---
What's Next